Ecorce 
Samuel Patthey and Silvain Monney, 15 ', Switzerland, 2020
In a hidden place, the daily routine of a retirement home unfolds as time seems to stand still. The residents drawn in pencil come to life on paper. Some are active, others rest or follow a fixed schedule that will be repeated every day: medication, meals, games ... Around them, machines are blinking, caregivers are busy and crucifixes remind them of the death that lies in wait for them. Time is fading and nearby, a forest stretches.
Bitches alley
Beatriz Arias González, 19 ', Chile, 2020
Francisca, Manuela, Vicenta, Lola and Antonia have been friends for a long time. They tend to spend their encounters between deep and pagan conversations, accompanied by alcohol. One more Friday night, like the thousands that have preceded them, they walk the streets, like a herd, without having a clear purpose other than having fun and always protecting each other. Thus the night will be spent, where drunkenness will take over their bodies, and will increase together with the euphoria of their actions and conversations. To end with the journey back home.
Son's name
Martina Matzkin, 13 ', Argentina, 2020
Lucho, a 13-year-old trans boy, does not spend much time with his father. When he takes a vacation with him and his younger sister, the new closeness and everyday life put their relationship to the test.
Fusilao
María Laura Reina, 10 ', Venezuela, 2019
An unexpected accident leaves Henrique unconscious, his mother takes him from the emergency room to the hospital. However, he will soon discover that the game Fusilao could become a metaphor for what is lived day to day in the corridors of a hospital in Venezuela.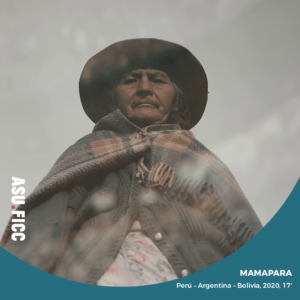 Mamapara
Alberto Flores Vilca, 17 ', Peru - Argentina - Bolivia, 2020
In the Peruvian highlands, he lives with his dog, Honorata Vilca, an illiterate woman of Quechua descent, dedicated to selling sweets. As the rainy season begins, she recounts passages from her life, until one afternoon something fatal happens that seems to make heaven itself cry.
Boxes
Gerardo Jara, 9 ', Paraguay, 2021
"Dad, why don't we have pictures of us on the walls?" Is the question I ask myself, while I chat with my father in the living room of my house. Digging through family photos and the memories of his paintings, I start to think about how we act (or not) when faced with the fact that our memories are disappearing.
Shānzhài Screens
Paul Heintz, 23 ', France, 2020
Shenzhen by night, copyist painters recount their daily life and trade. His acts alternate between artistic images and workers, from new technologies to classical techniques. Here another history of painting is drawn.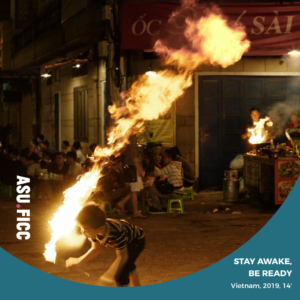 Stay awake, be ready 
An Pham Thien, 14 ', Vietnam, 2019
On a street corner, a mysterious conversation takes place between three young men at a street stall. Meanwhile, a traffic accident with a motorcycle happens. The night composes a sketch, a multicolored snapshot of reality.
The End of Suffering (a proposal)
Jacqueline Lentzou, 14 ', Greece, 2020
Sofia panics again. The Universe decides to contact her. A dialogue of other words. A planetary symphony for Mars, where people daydream and fight for love.
Everything close moves away
Francisco Bouzas, 13 ', Argentina, 2019
In Hidden City the young people are dreaming of their dead while a ghostly presence roams the corridors of the village.