INTERNATIONAL COMPETITION FOR FEATURE FILMS
Ana Martini / Cultural Manager - Writer

Graduated from the Universidad Católica Nuestra Señora de la Asunción as a Bachelor of Arts. Disciple of Olga Blinder, Ramiro Domínguez, Josefina Pla, Adriano Irala Burgos and other great masters of literature, art and culture. She is an art, film, culture and writer teacher. As Cultural Manager, the participation as co-creator of the Multisectorial Audiovisual Table stands out, a plural instance where the Audiovisual Law known as the Cinema Law was elaborated, presented and approved by the Executive Power in 2018. He has prefaced and presented numerous works and published his works on various platforms. In 2019 he published the book of stories "Writing in the water".
Hugo Giménez / Director - Screenwriter 
Born in Paraguay in 1976, he studied Film and Documentary Directing workshops. Selected by the 8th Talents Buenos Aires (2013). Winner of the Paraguayan call in the IV Edition of DocTV Latin America with the documentary "Outside the Field", which together with his shorts "Sin Felicidad" and "PlanetaM" were awarded at festivals and took part in exhibitions and installations. He is the director of the EL ESPEJO cine production company. Professor of the cinematography career and film project consultant. His fictional debut feature "Matar a un Muerto" was premiered at the MALBA in Buenos Aires in 2019 and in movie theaters in Paraguay in 2020.
Gabriela Sabaté - Producer

Born in Asunción in 1973, she has a degree in Marketing, graduated from the Autonomous University of Asunción. He worked in different roles in films and short films by Latin American directors such as Lucrecia Martel ("Muta"), Pablo Giorgelli ("Las Acacias") and Lucía Puenzo ("El Niño Pez"), and in projects by Paraguayan directors such as Paz Encina (" Paraguayan hammock "), Marcelo Martinessi (" North Karai "), Juan Carlos Maneglia and Tana Schembori (" The Searchers "), Pablo Lamar (" The last land ") and Hugo Giménez (" Kill a dead man "). In 2009 he founded Sabaté Films, with the aim of contributing to the growth of the Paraguayan film industry.
---
INTERNATIONAL SHORT FILM COMPETITION
Simón Franco / Director - Screenwriter
Simón Franco was born in Neuquén, Patagonia Argentina 42 years ago. He studied Directing at the Universidad del Cine (FUC), and specialized in the script workshop of José Martínez Suárez. As a scriptwriter for the feature film "Guaraní" (2016) he obtained "Best Screenplay" at the Gramado Festival. In advertising cinema, he has directed prolifically in both Paraguay and Argentina. He has made the feature films "Less Modern Times" (2011), awarded at numerous festivals; "Boca de Pozo" (2015), with Pablo Cedrón, and "Charlotte" (2021), starring Ángela Molina.
Alexandra Vazquez / Film Critic - Teacher
Master in Film Criticism graduated from Aula Crítica, in Barcelona, and BA in Cinematography from the Columbia University of Paraguay. He writes for the critic magazine El Espectador Imaginario de España and for La Pistola de Chejov, a virtual space for criticism. She is the editor of La Rabia, a feminist critical publication. He covered international festivals and was part of the Young Jury of the 35th Mar del Plata International Film Festival. In 2019 he has participated in the Talent Press of the Buenos Aires Talents. Since 2017 he has been a professor in the cinematography career at Columbia University.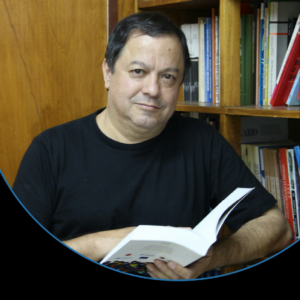 Andrés Colmán Gutiérrez / Journalist - Writer
Reporter for the newspaper Ultima Hora de Asunción, specialized in narrative and investigative journalism. He collaborates with the weekly Brecha de Montevideo. He has published two novels, a short story book, a couple of history books, a lot of investigative and narrative reports, film and documentary scripts, television program scripts and several comic books. He won some awards such as the Vladimir Herzog for Journalism and Human Rights (Brazil, 1985) and the Peter Benenson for Journalism Committed to Human Rights (2014) from Amnesty International. President of the Society of Writers of Paraguay (SEP) for the period 2019-2020.